May I present my latest recipe obsession: Chicken Florentine Pasta Casserole – Lazy Mom's Edition.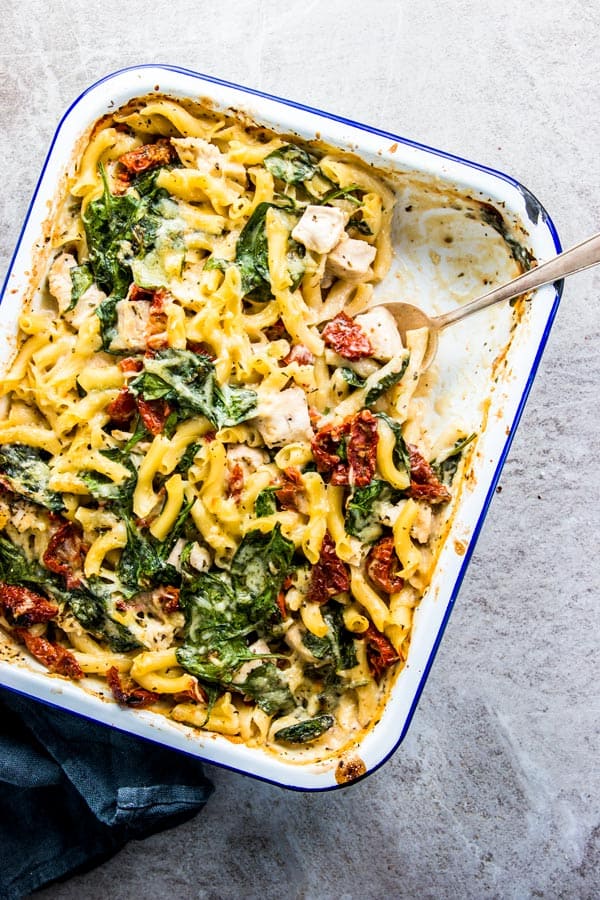 I know there's potentially negative associations to be made with the word "lazy" 😬 but I will readily admit that it's often pretty accurate to describe my habits in the kitchen. Or maybe I should just start calling myself a clever cook instead of a lazy cook? Yeah, I probably should.
I just got back from a blogging conference (!) in the actual United States (!!) where I flew all by myself (!!!) – I feel very grown up and responsible now. That's also the reason why I've been MIA by the way – there were just not enough hours in a day.
Also, jetlag and wine do not mix. Don't do it. Ever.
I got back home last night and the everyday craziness of having little kids picked right back up where I had left it a week ago. Chaos, desperation and a whole lot of chubby cuddles and wet kisses ❤
You'd think I'd be well rested after having a week with uninterrupted sleep at night, but au contraire… I'm extremely exhausted, actually, and not even embarrassed to admit it. Traveling is hard work.
Which is exactly why I'm into the easiest possible recipes right now. Things like my all-time favorite lazy clever mom one pot pea and corn pasta and my Easy Chicken Fried Rice.
Now… When I'm being especially clever, I've been making these basically zero prep pasta casseroles lately. I have one like that as a chicken cacciatore version already, but I was looking for something that's not tomato based.Confession: Not because I was trying to be edgy and different, but because I was simply out of canned tomatoes.
Unfortunately, creamy pastas tend to be heavy and stodgy and I try to be the opposite of these things. So… I figured I could just make my lightened up creamy one pot pasta in a casserole dish and call it a pasta bake. Success? You bet.
What I love about this Lazy Mom's Chicken Florentine Pasta Casserole:
…